Ellis Island
Ellis Island was the gateway for millions of immigrants to the United States as the nation's busiest immigrant inspection station from 1892 until 1954. Records indicate that more than half of all Americans had a relative who passed through Ellis Island. The Ellis Island Immigration Museum offers visitors a fascinating look into the immigrant experience through interactive exhibits, walking tours and movies.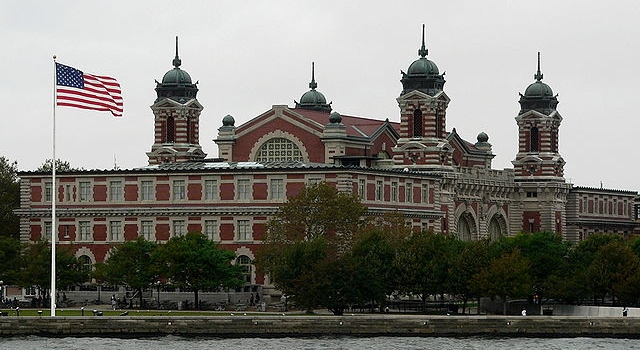 History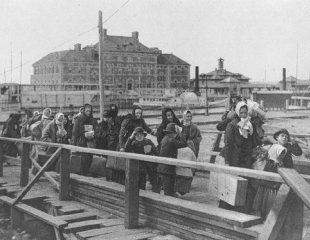 Ellis Island was designated as the site of the first Federal immigration station by President Benjamin Harrison in 1890. In the late 19th century political instability, restrictive religious laws and deteriorating economic conditions in Europe began to fuel the largest mass human migration in the history of the world. As the result, in the period 1892 to 1954, over twelve million immigrants, mostly from Europe, entered the United States through the portal of Ellis Island. Today, over 100 million Americans - one third of the population - can trace their ancestry to the immigrants who first arrived in America at Ellis Island.
Upon arrival to the Ellis Island, the immigrants have undergone medical inspections and were asked many questions, including occupation and the amount of money carried as it was important to the American government that the new arrivals could support themselves and have money to get started. Those with visible health problems or diseases were sent home or held in the island's hospital facilities for long periods of time. Generally, those immigrants who were approved spent from two to five hours at Ellis Island.
As the United States entered World War I, immigration to the United States decreased. After World War I, United States embassies were established in countries all over the world, and all necessary paperwork and medical inspection for immigrants was completed there. After 1924, the only people who were detained at Ellis Island were those who had problems with their paperwork, as well as war refugees and displaced persons. During World War II Ellis Island was used as a place where enemy merchant seamen were detained.
Finally, in November 1954 Ellis Island was officially closed.
In 1965, President Lyndon Johnson declared Ellis Island part of the Statue of Liberty National Monument. The Main Building was opened to the public as the Ellis Island Immigration Museum.