Central Park
Central Park, which receives approximately 35 million visitors annually, is the most visited urban park in the United States. It is one of those places that make New York such a great place to live. The Park was constructed over 150 ago, during the American Civil War. Especially during the weekends, when cars are not allowed into the park, Central Park is a great place to enjoy a bit of relaxation in the heart of the concrete jungle of New York City.
Grab Cheap Airfare on CheapOair to New York City.

Strawberry Fields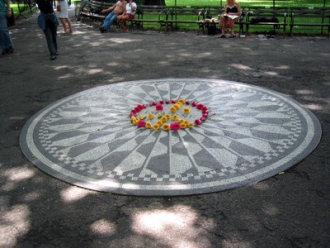 A tear-drop shaped area of Central Park near the Dakota building, where John Lennon lived and was murdered. It is named after The Beatles song Strawberry Fields Forever. Its focal point is a reproduction of a mosaic from Pompeii donated by the city of Naples with Imagine added to the center.
More information and photos - Strawberry Fields on Wikipedia or Central Park Official Website
Belvedere Castle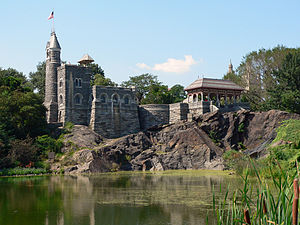 Built as a Victorian folly (decorative building) in 1869, Belvedere castle was later used by the National Weather Service to take measurements of the wind speed and direction from the castle's tower, and other data, such as the rainfall, from a nearby compound. Belvedere means beautiful view in Italian and the name fits it well because the castle provides impressive views across Central Park and New York City.
More information and photos - Belvedere Castle on Wikipedia or Central Park Official Website
Angel of the Waters, Bethesda Fountain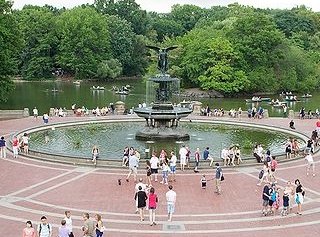 Bethesda Terrace is a two level terrace united by two grand staircases. The upper terrace is the architectural culmination of the Mall and the lower terrace provides a podium for viewing the Lake. Since 1873, Bethesda Fountain is the central feature on the lower terrace. It was sculpted by Emma Stebbins, who was the first woman ever to be hired for a major public art work in New York City.
More information and photos - Bethesda Fountain on Wikipedia or Central Park Official Website